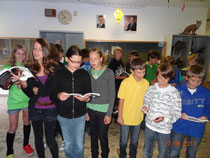 The third form students have been talking a lot about MUSIC recently.
They got to know the Beatles and their Music teacher Monika Vetorazzi introduced them to the song "Let it be".
They talked about musical styles and about their favourite singers and bands.
They presented their favourite songs and worked on their portfolios.
Last Tuesday the English teachers organized a "party" for the pupils. There the girls performed cool dances, some brave singers presented their favourite songs on SINGSTAR. Others talked about their favourite starsor played sketches. The session was organized as a casting show and the jury members gave funny comments on the performances.
It was a funny and exciting English lesson.
Thanks to all our third formers for the great show